Church Leadership
Church Leadership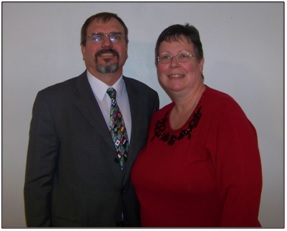 Pastor Kevin and his wife Diane arrived at Terre Hill Bible Fellowship church in the Fall of 2000. Pastor and Diane had been married in August and Kevin had just returned from a mission'strip to the 2000 Olympic Games in Sydney, Australia. Prior to coming to Terre Hill BFC, Pastor Kevin served 2 years as a Regional Evangelist with The Pocket Testament League, headquartered in Lititz. His responsibilities there included leading inner city outreaches each summer and doing evangelism training seminars. Prior to that, he spent over 13 years in the field of Adult Rehabilitation with mentally and physically challenged adults at Goodwill Industries and two other locations as a workshop supervisor. He was born and raised just a couple of miles from our church. He attended Cocalico High School ('81), Indiana University of Pennsylvania (Criminology/Pre-law '85) and Lancaster Bible College (Bible and Christian Life '96). He previously attended the Bible Fellowship Church of Ephrata where he enjoyed sitting under the ministry of Pastor Dan Allen.
Diane grew up in the Millersville area where she attended Penn Manor High School ('72), and St. Joseph's Hospital School of Nursing, Lancaster ('75). She worked as a Registered Nurse at Community Hospital of Lancaster for over 20 years as both as medical-surgical staff nurse and operating room nurse. Her first experience as an OR nurse was at Rethy Hospital, Zaire (now Democratic Republic of Congo); serving under Africa Inland Mission, International and the Evangelical Congregational Church in the early 1980's. She previously attended Faith Bible Fellowship Church in Lancaster.
Both Kevin and Diane accepted Christ as Savior as children and grew up in Christian homes. Pastor enjoys hunting, reading, current events, playing and watching sports. Diane's hobbies include scrapbooking, reading, photography, music, and crafts.
Elders
Kevin Kirkpatrick, Ron Derr, Andrew Littlejohn, Shannon Seip
Deacons
Tom Keylor, John Kreider, Joe Hertzler